Need to create a WordPress site?
Introduction
Are you looking to create WordPress site? Creating a site from scratch can be a terrifying thought specially when you're not technically sound or if you are not from a group of people with hands-on experience in Web designing and development. But…. hold on, there is a good news for you, there's software out there that's so easy to use, virtually guides you to successfully create a unique and professional-looking website. You might be wondering, how's it possible for anyone to create a site without any technical knowledge, but trust us, it is true. WordPress made it possible! 
What is WordPress?
WordPress is a free and open-source content management system (CMS) platform that allows you to host and build websites. WordPress is a very easy-to-use platform provides a huge library of plugins and templates, so you can customize any website exactly in the way it fits your business, blog, portfolio, or online store needs. This ultimate guide on "how to create a WordPress site" will guide you through all the basic steps required to create a WordPress site also help you with special tips and tricks to make your WordPress website unique. So let's get starters, take a closer look at steps of how we are going to create WordPress site. 
Steps To Create a WordPress Site
Select a WordPress plan.

 
Set up your domain name and hosting.

 
Install WordPress.

 
Choose your theme.

 
Install Required plugins.

 
Customize your website and optimize it to increase page speed

 
Create a WordPress Site Step #1: Select a WordPress plan.
First, you have to select a WordPress plan from WordPress.com, here you might have wondered why we are recommending WordPress.com but not WordPress.org even when it is free to use. So here let me clear you that, Although WordPress.org is free to use you have to pay for everything else that goes into having a website including domain name, plugins, themes and it also add a lot more responsibility like edit your website's code and manages your website's security, and many more that you have to handle your own. Whereas WordPress.com has made things easy for you. You don't need to manage your server, hosting, or domain. So, hope you get why WordPress.com is the best choice for you. When you go to WordPress.com, you will have to choose between five different plans that are 
Free plan

 

Personal plan

 

Premium plan

 

Business plan

 

eCommerce plan

 
The main differences between these plans are the monthly charges, types of site, customization features, and marketing tools they provide. You can go for any of them that suits your requirements. 
Create a WordPress Site Step #2: Set Up Your Domain Name and Hosting.
Now it's time to choose a domain name and hosting services. Since there are various options available in the market, you might be wondering how to choose the best domain name and hosting service.Domain Name: When it comes to the domain name, WordPress.com allows you to custom domain depending on your chosen plan, but it takes care of the hosting for you. You can search and purchase the domain name of your choice with domain registrar.domain registrar is a company that provides domain name registrations and maps domain names to IP addresses. Hosting Services: Since there are hundreds of hosting providers and everyone claims to be the best. It is important for you to choose to host services carefully because it going to impacts your website's speed, security, and reliability. So, when you going to choose the hosting service make sure it meets WordPress' three basic hosting requirements: 
PHP

 version 7.4 or greater

 

MySQL version 5.6 or greater OR MariaDB version 10.1 or greater.

 

HTTPS support

 
Here are some best hosting services providers, you can go for when going to create a WordPress site: 
Bluehost 

 

HostGator 

 

Hostinger 

 

SiteGround 

 

A2 Hosting 

 

GreenGeeks 

 

InMotion Hosting 

 

Site5 

 
For sake an example let us assume, you have purchased hosting from Bluehost. Now let's see how to create WordPress site with Bluehost. First, go to Bluehost's website and click on Get Started. Next, you have to choose the pricing plan that you want to go for.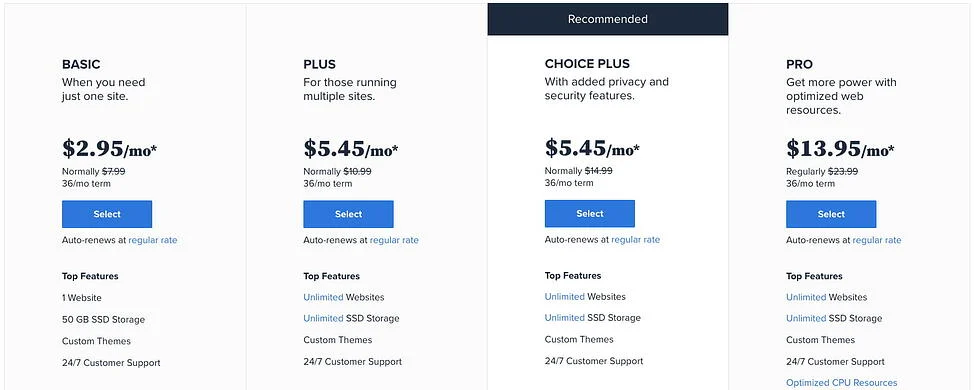 Here you will see four different plans that are BASIC, PLUS, CHOICE PLUS, and PRO. Once you choose your plan and click Select, you'll be directed to sign up with a domain name. Next, you have to set up your domain name, here you will get the option of creating a new domain name or you can use a domain you own. Next, you will be directed to the account and billing page, complete your account and billing information for your purchase. Once you are done with billing, you will get access to your hosting dashboard where you'll be able to install the WordPress CMS. 
Create a WordPress Site Step #3: Install WordPress
Now, you have to install WordPress, here are the steps to Install WordPress –  
Log in to your Bluehost cPanel account.

 
Find the Website section and select Install WordPress.

 
Click the "Install" button.

 
Then, choose the domain name to install it to. 

 
If required, you can edit your email address, username, and password for the new WordPress installation.

 
Now you are done with WordPress installation. So now it's time to make website looks nice by choosing a perfect theme. 
Create a WordPress Site Step #4: Choose Your Suitable Theme
.
WordPress automatically applies a default theme to your website but it may not be so impressive. WordPress provides reach customization features with hundreds of themes and templates to choose from. Even after choosing a suitable theme, you can further customize your pages with a page builder tool like Elementor.Elementer is again a plugin, that you can install from WordPress plugin library for free. To find a theme that works best for your website and meets your end purpose, go to your admin dashboard. Go to Appearance, then select "Themes". You'll be directed to another screen where you can browse available themes or you can search for a specific one, as per your website need. Once you find the perfect theme, simply install it and customize it as per your requirements. 
Create a WordPress Site Step #5: Install Required plugins
WordPress offers a huge number of plugins, that can add functionality to your WordPress website and enhance the user experience. For plugin installation, go to the plugin section, on the WordPress dashboard, This will show you all the plugins currently or by default installed on your site. Depending on your host, you might get several plugins installed already. After installing any plugin, don't forget to activate it, to make it functional. To add a new plugin, click on the "Add New" button that you can see at the top of the page. Then make a search for the desired plugin, if you find that one then clicks on "Install Now". When the plugin gets installed, then click on the "Activate" button. This way you can install the plugins. 
Create a WordPress Site Step #6: Customize Your Website And Optimize It to Increase Page Speed
Now when you are done with the installation and set up process, you can Customize your website and optimize for the best user experience. Go to the admin dashboard, select Settings > General. From here you can add your website title and tagline and can change other basic site information like your URL, email, time zone, and more. You can customize, reading setting, navigation, and all. Moreover, you can enable your browser caching by installing and activating a caching plugin as discussed above. Add all essential pages, advanced functionality to deliver the best user experience at your site. And what left is….. Nothing! Congratulations you have successfully created a WordPress website!! 
Final Thought On How To Create a WordPress Site
Now hope you agreed to the fact that creating your own website is not a daunting process as much it is generally considered…at least not with WordPress. With WordPress, anyone can start building their own site with no prior knowledge of WordPress web design and development. The best part about a WordPress website is you can customize it the way you want and can be used for your business, blog, portfolio, or online store immediately. Hope this comprehensive guide on how to create WordPress site, helps you in creating your own WordPress site.